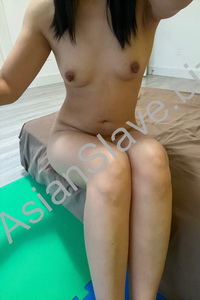 > Degree of Submissiveness:
> Description
This sex slave (submissive escort) is 35 years old, 1.50m, 47kg, a healthcare professional in Vancouver Canada.
She is well-educated and obedient, can do 135 kinds of submissive services.
She is available in Canada & USA.
Other Language: Taiwanese, Chinese.
>> Resume
My name is Amy… more
>> Favorites
To sum up: This lady is new to BDSM, she loves Power & Control Games.
Being her master's office slave / slave secretary in his office
Keeping master's penis in her mouth when he is working in office
Willing to be introduced by the master as "This is my slave…"
Kneeling by the door to welcome / greet guests
Obeying her master's command to kneel & kowtow to a guest $
Kneeling beside her master when he is meeting guests
Being a naked maid to service guests $
Massaging feet for her master in front of guests
Being touched and humiliated by her master in front of guests
Giving oral sex to her master in front of guests
Obeying her master's command to perform oral sex on a guest $
>> Services
> Bedroom – when the slave services you in your bedroom, she can provide below services.

> Power & Control – demonstrate ultimate control by showing off your slave to your friends, she will obey her master and provide the below services.

>> Fees
This slave offers two options for how she can serve you:
Sex Included: She will provide all her normal sexual and SM services as listed above
Sex Excluded: Other than vaginal sex or anal sex, she will provide all the SM services listed above, including hugging, kissing, nudity, massage and oral.
This slave has 4 types of service fee (3 Test Dating, 1 Sugar Daddy – Sugar Baby Package) –
> Test Dating
Daytime Dating
You can meet with this slave at daytime for half-day (5 Hours, end before 10pm) in her city.
Sex included: A$/€/$1,125
Sex excluded: A$/€/$875
Overnight Dating
You can meet with this slave overnight (12 Hours) in her city.
Sex included: A$/€/$1667
Sex excluded: A$/€/$1,125
.
Full-day Dating
You can keep meeting with this slave for whole day (24 hours).
Sex included: A$/€/$2,083
Sex excluded: A$/€/$1,458
(You can get 1 day free after 3 days)
> Sugar Daddy – Sugar Baby Package
Sponsorship Package
You and this slave live separately, but meet 2 days per week (at weekends), totally 8 days a month, in Canada & USA.
Sex included: A$/€/$6250/month
Sex excluded: A$/€/$4167/month
>> Status