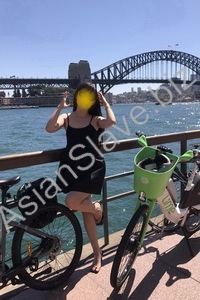 > Degree of Submissiveness:
> Description
This sex slave (submissive escort) is 22 years old, 1.63m, 49kg, a student in Sydney Australia.
She is beautiful and submissive, can do 215 kinds of submissive services.
She is a natural Masochist.
This is one of our most beautiful and best slaves.
She is available in Australia.
Other Language: Chinese.
>> Resume
1. Regarding my daily situation… more
1,关于我的日常情况… 更多
>> Favorites
To sum up: This new girl is a born masochist, she prefers to enjoy sexless BDSM, especially heavy spanking.
Spanking
Palm Punishment
Bastinado
Water plays / torture
Slave Cage
Limited photo/video with mask
Keeping Master's penis in my mouth when he is working in office
Deep Throat / Violent Oral Rape
Forced Dancing with her Master's Penis in her Mouth
Being raped
Being gang raped $
Having needles used on her bottom before being fucked $
Being spanked to red and blue ass by her master before being fucked $
Sex with my master in front of guests
Sex with master in public
Fully naked in public
Continuously licking the anus for her Master until he falls asleep $
Sleeping overnight with master's penis in her mouth $
Forced Dick Sucking after pissing
Chamber Pot (drink all her master's piss for a full day) $
Toilet Paper Tongue (after wiping bottom) $
Two sister slaves servicing one Master
>> Services
> Bedroom – when the slave services you in your bedroom, she can provide below services.

> Power & Control – demonstrate ultimate control by showing off your slave to your friends, she will obey her master and provide the below services.

> Outdoor & Public – when you bring your slave to outdoor or public, she can provide below services.

> Bathroom – when the slave services you in your bathroom/toilet (your private toilet, not public one), she can provide below services.

>> Fees
This slave offers two options for how she can serve you:
Sex Included: She will provide all her normal sexual and SM services as listed above
Sex Excluded: Other than vaginal sex or anal sex, she will provide all the SM services listed above, including hugging, kissing, nudity, massage and oral.
This slave has 5 types of service fee (3 Test Dating, 2 Sugar Daddy – Sugar Baby Packages) –
> Test Dating
Daytime Dating
You can meet with this slave at daytime 6 Hours (end before 10pm) in her city.
A$/€/$ 4,500 (sex included)
A$/€/$ 1,333 (sex excluded)
Overnight Dating
You can meet with this slave overnight 12 Hours in her city.
A$/€/$ 5,333 (sex included)
A$/€/$ 1,667 (sex excluded)
Full-day Dating
You can keep meeting with this slave for whole day (24 hours).
Sex included: A$/€/$6,167
Sex excluded: A$/€/$2,000
> Sugar Daddy – Sugar Baby Package
Sponsorship Package
You and this slave live separately, but meet 2 days per week, totally 8 times a month, in her city.
Sex included: A$/€/$16,667/month
Sex excluded: A$/€/$10,000/month
Tuition & Home-stay Package
You prepay all or part of her tuition fees for a semester and provides her accommodation. The slave will live with you for the semester. However, during this period, she can still go for the dating from ASC.
3 Months' Tuition Fee:
A$/€/$ 33,333 (sex included)
A$/€/$ 16,667 (sex excluded)
Pocket Money:
A$/€/$ 6,667/month (sex included)
A$/€/$ 3,333/month (sex excluded)
>> Status
Availability: Yes
(after 1/1/2024)