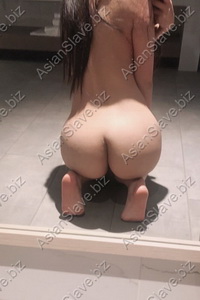 Degree of Submissiveness:
— Profile
This sex slave (submissive escort) is 26 years old, 1.65m, 53kg, a business woman in Los Angeles and Las Vegas USA.
She is pretty and very submissive, can do 214 kinds of submissive services.
She is a natural masochist.
This is one of our best slaves.
She is available in USA.
Other Language: Chinese.
— Resume
It would be better if I can see one of your pictures before we meet. To be honest, I'm not here to work, I have much better ways to make a living and have a very busy schedule myself too. As a natural masochist, I just want to find a real master (dominant) to have fun and relax. You can have $500 back if you can make me orgasm. I will try my best to give you a good time too. I hope to find a long term SM lover who's compatible with me, privacy oriented and low maintenance, no drama. Thanks for reading. Good luck everyone.
— Favorites
To sum up: This girl is a newcomer. She is a natural masochist. She doesn't care about money and just wants to find a higher-level Master.
Wearing a slave identification when she is hired by a master
To be written on her body by Master
Verbal Humiliation
Forced Tongue Kissing with her Master
Smell male genitalia
Licking her master's genitals for 1 hour $
Deep Throat / Violent Oral Rape
Wearing a dog collar & Dog play
Forced to masturbate in front of her Master
Forced Running by Pulling Hair
Obeying her master's command to be touched by a guest $
Obeying her master's command to perform oral sex on a guest $
Obeying her master's command to be fucked by a guest $
Slave training in Public
Forced Kneeling in Public
Forced Oral Sex (giving blowjob) for her Master in Public $
Cum in Mouth & Semen Swallowing
Golden Shower
Forced Dick Sucking after pissing
Wiping Master's Bottom after Toilet
Bandage & Restrains
Slapping
Palm Punishment
Bastinado
Spanking
Hot Wax
Being stimulated on her pussy with an SM electric shock toy by her master before being fucked $
Forced Sex / Rape
Forced Cock Cleaning with her Tongue after Sex
Forced licking all over her master's body after playing sport or having sex
Continuously licking the genitals for her Master until he falls asleep $
(Services marked with $ require an extra charge. See pricing details in Services below)
— Services
Bedroom – when the slave services you in your bedroom, she can provide below services.

Power & Control – demonstrate ultimate control by showing off your slave to your friends, she will obey her master and provide the below services.

Outdoor & Public – when you bring your slave to outdoor or public, she can provide below services.

Bathroom – when the slave services you in your bathroom/toilet (your private toilet, not public one), she can provide below services.

— Fees
This slave has 5 types of service fee (3 Test Dating, 2 Sugar Daddy – Sugar Baby Packages) –
>> Test Dating
> Daytime Dating
You can meet with this slave at daytime in her city.
– 6 Hours (end before 10pm) :
A$/€/$ 2,500 (sex included)

> Overnight Dating
You can meet with this slave overnight in her city.
– 10 Hours (end before 8am) :
A$/€/$ 2,833 (sex included)

> Full-day Dating
You can keep meeting with this slave for whole day (24 hours).
– Day:
A$/€/$ 3,333 (sex included)
>> Sugar Daddy – Sugar Baby Package
> Sponsorship Package
You and this slave live separately, but meet 2 time per week, totally 8 times a month, in her city.
– Daytime Package (6 hours x 8):
A$/€/$ 12,500/month (sex included)
– Overnight Package (10 hours x 8):
    A$/€/$ 14,833/month (sex included)
– Full-day Package (24 hours x 8):
A$/€/$ 18,333/month (sex included)

> Fostering Package
You and this slave live together like a couple in her cities. During the Fostering period, she cannot date any other man.
– Year:
A$/€/$ 834,167 (sex included)
— Status
>>Availability: Yes
(I'm not so flexible to travel at this moment. My preferred time is LA during the weekend. I would only be able to travel to another city if it coincides with my business trip. Possible locations New York, San Francisco, Miami and only when it's convenient for me. )