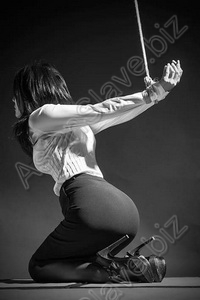 — Profile
This sex slave (submissive escort) is 24 years old, 1.65m, 60kg, an office lady in Sydney Australia.
She is beautiful, elegant and submissive, can do 191 kinds of submissive services.
She is a natural submissive.
This is one of our most beautiful slaves.
She is available in Sydney.
Other Language: –
— Resume
Hello Master,
By day I am an elegant, educated and respectful lady. I work in Sydney's CBD and perform a role that requires skill and attention, supporting the company I work for, and presenting the same professional guise you would see on any other woman passing you on the city streets.
By night, I reveal another side, embracing my submissive and masochistic tendencies. There are so many games I dream of playing, and I love the idea of being forced into painful slavery by a demanding Master. My fantasies range from being kept in a cage overnight, to extreme toy play, and on to the most depraved things you read in online stories.
I'm hoping to find a long term Master that will treat me the way I deserve. Someone that will push my limits, that will explore what I am capable of, and then find even more ways to enjoy themselves at my expense. I am willing to try almost anything! Whether it is in private, serving you and your wife or friends, or even doing things in public (so long as we are not near where I work).
The idea of being enslaved by a strict Master excites me as I work through the week. I would like to be able to keep my job and would love it if my Master dictated requirements for like a chastity belt or punishment for breaking your curfew. However, I am willing to consider sacrificing my work for the right Master to serve him full time.
What is my favourite fantasy? I love a good spanking! Punish me and make my firm, round ass into a testament to your authority. Maybe you're also the sort of Master that would like to roll me over and give my pussy a spanking to, making me cry with both pleasure and pain. If you were the sort of evil Master that wanted to cement my punishment forever in photographic evidence, it would make it even more exciting.
Because of the depth of my submission and the breadth of truly inspiring fantasies I am willing to submit to, I have a certain caution when meeting a new Master for the first time. I need to have confidence that you understand the difference between the crude brutality and the exquisite beauty of pain artfully applied by a skilled Master. As such, I respectfully request that our first meeting is for a 4 hour visit in the afternoon or evening. Once we have confirmed our suitability and the Sugar Daddy relationship, I would be delighted (agonisingly so J) to continue on and spend the night with you.
Are you the man that can be my Lord and Master, earning my complete submission and utter slavery?
— Favorites
To sum up: this slave is quite submissive. She enjoys Office Slave, Punishment and Rape.
Slave Dance
Dancing with a penis in mouth
Master's stool/chair
Master's footrest
Pony play
Forced to slap 10 times by herself
Running by pulling hair
Keeping Master's penis in my mouth when he is working in office
Semen swallowing
Sleeping overnight with master's penis in her mouth
Being fucked by her master while she is being tied up
Being pinched on her nipples or having her breasts twisted by her master before/while being fucked
Being slapped by her master before/while being fucked
Being spanked to red ass by her master before being fucked $
Being spanked / strapped to red / swollen pussy by her master before being fucked $
Being stimulated on her ass/legs/feet with an SM electric shock toy by her master before being fucked $
Private photo/video without mask/hood $
Kneeling beside her master in his meeting
Obeying her master's command to kowtow to a guest $
Obeying her master's command to untie her top and show her breasts to guests $
Obeying her master's command to pull up her skirt / take off her pants and show her pussy to guests $
Obeying her master's command to being a naked maid to service guests $
Forced kneeling beside master in public $
Being slapped by her master in public $
(Services marked with $ require an extra charge. See pricing details in Services below)
— Services
Bedroom – when the slave services you in your bedroom, she can provide below services.

Power & Control – demonstrate ultimate control by showing off your slave to your friends or bring her to your office, she will obey her master and provide the below services.

Outdoor & Public – when you bring your slave to outdoor or public, she can provide below services.

Bathroom – when the slave services you in your bathroom/toilet (your private toilet, not public one), she can provide below services.

— Fees
This slave has 2 types of service fee (2 Test Datings) –
>> Test Dating
> Half-day Dating
You can meet with this slave for half day in her city.
Daytime (before 10pm) 4 Hours: A$/€/$ 2,090
Daytime (before 10pm) 8 Hours: A$/€/$ 2,750
> Full-day Dating
You can keep meeting with this slave for whole day (24 hours/day).
1 Day: A$/€/$ 3333
Add. Day: A$/€/$ 2500
— Status
>> Availability: No
(I can be available Sundays or Monday evenings until 10pm)
(This lady needs to know a gentleman's background before deciding to date. Your cooperation is appreciated)