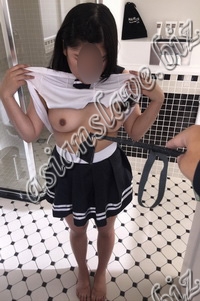 — Profile
This sex slave (submissive escort) is 24 years old, 1.56m, 55kg, a student in Osaka Japan.
She is pretty and submissive, can do 248 kinds of submissive services.
This is one of our best slaves.
She is available worldwide.
Other Language: Japanese.
— Resume
I'm a cute Japanese girl who had a traditional upbringing, learning the beautiful art of ikebana (Japanese flower arrangement).
I'm a very obedient slave who loves SM. I have been carefully trained by a strict, gentlemanly master for many years who trained me to be obedient and  submissive. As part of my training I have learned to accept strict punishment, like humiliation and being shamed in public.
I would be honoured to have a strict and refined master control me, training me to act the way you desire. I am excellent as a foot slave, human furniture and as a human toilet.
Your wish is my deepest desire. Please enslave me, so that I can give you the best response and fulfil your desires.
— Resume (Japanese)
私はSM好きの素直な奴隷です。
紳士的なご主人様に調教されたり、公共の場での羞恥プレイが好きです。
日本の伝統生け花を習っている魅力的な女性をあなたのペットや人間家具として籠愛してみませんか。私はご主人様の脚へのご奉仕や人間トイレとしてお役に立てることが奴隷として最高の幸せです。
紳士的なご主人様に興味があるので、もし雇って貰えればなによりのご褒美です。
— Favorites
To sum up: this slave is quite submissive and she can play almost all the SM games in our club. She is strong in toilet plays and public humiliation, but she is weak in spanking / slapping style plays.
Private Photo/video without Mask
Forced anal sex
Anal Licking before Shower
Being a naked maid to service guests
Being slapped by her master in Public
Being her master's spittoon (swallow all her master's spittle for a full day) $
Being her master's chamber pot (drink all her master's piss for a full day) $
Being human toilet for her master (he can shit in her mouth but she does not swallow it) $
(Services marked with $ require an extra charge. See pricing details in "Services" below)
— Services

Bedroom —- when the slave services you in your bedroom, she can provide below services.

Power & Control – demonstrate ultimate control by showing off your slave to your friends or bring her to your office, she will obey her master and provide the below services.

Outdoor & Public – when you bring your slave to outdoor or public, she can provide below services.

Bathroom —- when the slave services you in your bathroom/toilet (your private toilet, not public one), she can provide below services.

— Fees

This slave has 5 types of service fee (2 Test Dating, 3 Sugar Daddy – Sugar Baby Packages) –
>> Test Dating
> Half-day Dating
You can meet with this slave for half day in her city.
Daytime (before 10pm) 8 Hours: A$/€/$ 2,240
Overnight 11 Hours: A$/€/$ 2,240
> Full-day Dating
You can keep meeting with this slave for whole day (24 hours/day).
1 Day: A$/€/$ 2,800
2 Days: A$/€/$ 4,600
Add. Day: A$/€/$ 1,200
>> Sugar Daddy – Sugar Baby Package
> Sponsorship Package
You and this slave live separately, but meet 1 time per week in her city.
Month: A$/€/$ 5,000
> Fostering Package
You and this slave live together like a couple, or travel together for holidays.
Week: A$/€/$ 9,500
Month: A$/€/$ 25,000
> Tuition & Home-stay Package
You makes an upfront payment of one semester's tuition for the slave and provides her accommodation. The slave will live with you for the semester. However, during this period, she can still go for the dating from ASC.
6 Months: A$/€/$ 50,000
— Status
>> Availability: No