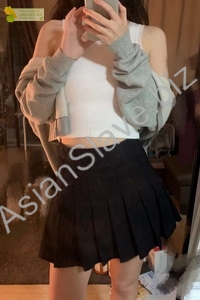 > Degree of Submissiveness:
> This sex slave (submissive escort) is 24 years old, 1.60m, 44kg, a student in Seoul Korea.
She is pretty and submissive, can do 237 kinds of submissive services.
She is a natural masochist.
This is one of our best slaves.
She is available in Korea.
Other Language: Korean, Chinese.
>> Resume
> I am a college student who has just graduated. After graduation, my parents will not continue to support me. I hope to find a sugar daddy to be taken care of. I feel like my natural Masochist. Although I haven't been really trained, I really want to try it. Usually watching porn related to this aspect may make me very excited and fantasize that I am the masochist in porn. I hope to find a long-term reliable sugar daddy to sponsor me to continue my graduate studies. 
>> Favorites
To sum up: This girl said she is a masochist. It seems her Degree of Submissiveness and Pain Tolerance are quite ok.
Slave Training and punishment
Being fondled by her Master in public
Forced Kneeling in Public
Being Slapped by her Master in Public $
Being spanked to red ass by her master before being fucked $
Being spanked / strapped to red / swollen pussy by her master before being fucked $
Continuously licking the anus for her Master until he falls asleep $
Sleeping overnight with master's penis in her mouth $
(Services marked with $ require an extra charge. See pricing details in Services below)
>> Services
> Bedroom – when the slave services you in your bedroom, she can provide below services.

> Power & Control – demonstrate ultimate control by showing off your slave to your friends, she will obey her master and provide the below services.

> Outdoor & Public – when you bring your slave to outdoor or public, she can provide below services.

> Bathroom – when the slave services you in your bathroom/toilet (your private toilet, not public one), she can provide below services.

>> Fees
This slave offers two options for how she can serve you:
Sex Included: She will provide all her normal sexual and SM services as listed above.
Sex Excluded: Other than vaginal sex or anal sex, she will provide all the SM services listed above, including hugging, kissing, nudity and massage.
This slave has 2 types of service fee (1 Test Dating, 1 Sugar Daddy – Sugar Baby Package) –
> Test Dating
Daytime Dating
You can meet with this slave at daytime in her city.
10 Hours (end before 11pm) : A$/€/$ 1,667 (sex included)
> Sugar Daddy – Sugar Baby Package
Sponsorship Package
You and this slave live separately, but meet 3 time per week, totally 12 times a month, in her city.
Daytime Package (10 hours x 12): A$/€/$ 3,750/month (sex included), A$/€/$ 2,250/month (sex excluded) 
>> Status
Availability: Yes
(I'm planning to study in US next year. I can date sugar daddies during the daytime in Korea, and I can accept a full-time fostering when I move to the states.)